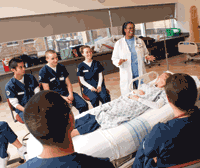 Still have questions?
If you can't find the answer you're looking for, contact us.
FAQs
Select a question to reveal the answer.
General
Why did Independence Blue Cross (IBC) launch a foundation?
What programs does the IBC Foundation support?
What types of grants does the IBC Foundation provide?
Grant eligibility
Who is eligible for a grant?
I reviewed the grant eligibility guidelines, but I am still not sure if my organization fits the scope of the program. Where can I find more information about the specific program requirements?
Does the IBC Foundation provide grants to individuals?
Can I apply for a Foundation grant for a sponsorship or fundraising event?
Application process
What do you look for in evaluating a grant application?
How do I submit an application?
How will I know if you received my application?
May I submit attachments with my grant application?