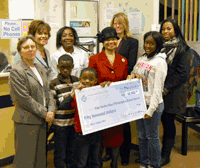 Mission
Transforming health care through innovation in the communities we serve
The nursing challenge ahead
More than half of all nurses plan to retire between 2011 and 2020.¹
According to the American Hospital Association, the national vacancy rate for registered nurses is 8.1 percent.²
Applications to nursing schools increased from 122,000 in 2004 to 208,000 in 2009. Still, thousands of qualified, interested students never enroll because schools cannot handle the potential number of students because of a lack of teachers and other factors.²
The Pennsylvania Center for Workforce Information and Analysis estimates the current statewide shortage of registered nurses as 4.9% and projects that the shortage could grow to 14.2% by 2017.
Enhancing Health Care Delivery
Nurses play a critical role as an ally to physicians and other health care providers in improving the quality of health care.
The role of nurses is expected to become even more vital in the coming years. Health care experts believe nurses will make even more important contributions as our nation's health care system is transformed through the new reform law.
The future of nursing
The IBC Foundation is committed to creating a brighter future for health care by investing today in the next generation of nurses. To achieve our goal of improving health care delivery, the IBC Foundation developed the Nurses for Tomorrow initiative to strengthen the nursing workforce in our region.
Nurses are increasingly on the frontlines of providing primary care, as evidenced by the increase in the number of new licensed nurse practitioners each year. Adequate education and training are critical to ensuring future nurses have the skills and experience they need to provide quality care.