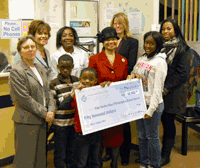 Mission
Transforming health care through innovation in the communities we serve
Nurses for Tomorrow
The IBC Foundation is committed to strengthening nursing and nursing education. We understand how critical it is to ensure that the supply of nurses will meet future demand and that today's nursing students are prepared to meet the demands of a rapidly changing health care landscape.
Through the Nurses for Tomorrow initiative, we support several grant and programmatic initiatives designed to advance nursing education and practice.
To increase the number of licensed practice nurses, nursing educators, and advanced practice nurses specializing in primary care and geriatric care, we provide grants to nursing schools in southeastern Pennsylvania, which fund scholarships for undergraduate and graduate nursing students.
To support the development and education of the nursing community as well as foster collaboration and knowledge sharing across the health care sector, the IBC Foundation hosted the first Inside Managed Health Care Plans workshop. This free, instructional program focused on the business of health care and managed care practices. We plan to offer similar workshops in the future.
As nursing roles continue to evolve, Independence Blue Cross (IBC) and the Independence Blue Cross Foundation co-sponsor the Nursing Internship Program to offer opportunities for undergraduate nursing students to gain experience in unique and non-traditional settings, fostering an appreciation and understanding of the multitude of roles that nurses play in health care. This program draws on the IBC Foundation's partnerships in our region with both the clinics supported by the Blue Safety Net initiative and local accredited nursing schools supported through the Nurses for Tomorrow initiative.